I don't know how many really do or don't, but I was never a Jewish child that wished he could celebrate Christmas. Wasn't jealous, or envious, or whatever. (I'm not as an adult either.) I've always understood that I live in a country where Christian is the dominant culture. Personally, I like all the Christmas music in stores at this time of year! And I certainly don't mind if people wish me a Merry Christmas. But I'm Jewish. Given how multi-cultural our continent has become, I generally go with Happy Holidays myself. (Or Happy Birthday, since December 25 is when my brother David was born.)
Hanukkah is a fine little holiday. I certainly enjoyed the presents I got when I was a kid. I still enjoy the gifts I get now. But Hanukkah is not "Jewish Christmas." It's a minor holiday in the Jewish year that just happens to be at the same time as Christmas so it gets the attention. (I do believe that  gift-giving has long been a part of Hanukkah, but I'm sure that it's gone over-the-top in modern times in an effort to keep up with Christmas. Not that I'm really complaining.)

Presents for the family Hanukkah party at my mother's house, 1998.
All this being said, I've always enjoyed the many Jewish traditions at Christmas. Movies on Christmas Eve! Chinese food! And, for our family during most of my growing-up years, skiing on Christmas Day on slopes that were practically empty and without lift lines!
When Barbara and I very quickly reached the point where we knew that marriage was in our future, she told me she would like to convert. There was never any pressure from me or my family; it was something she wanted to do. The only thing my parents would have asked was that she respect our family traditions. Apparently there's a relative in my extended family whose non-Jewish wife once shouted, "three cheers for the Baby Jesus!" at a family Hanukkah party. It didn't go over well! (One added bonus of Barbara becoming Jewish was that there were few decisions for Josh and Amanda about the holidays: Christmas with their father and his family, Hanukkah with their mother and me and my family. The same with Easter and Passover.)
The first Christmas Barbara and I spent together was in 1992. I cooked steaks, peas and mashed  potatoes on Christmas Eve. On Christmas Day, we watched Gone With the Wind on television. Not really anyone's idea of tradition, but certainly something I'll always remember. The next year, we saw Schindler's List on December 24 … but it turned out to be the only year we ever saw a movie together on Christmas Eve.
Barbara's mother very quickly came to love the Jewish traditions of my family. Like Barbara, her mother was an only child and they both enjoyed being part of a large, warm family. Alice would join us for Seders, High Holidays and Hanukkah parties, but she never gave up her Christmases. Why should she?
In 1994, Alice invited Barbara and me to her apartment for Christmas Eve and then back for dinner on Christmas Day. (My parents came too.) Barbara's father died in November of 1995, and there was no way we'd leave Alice alone for Christmas after that. Christmas Eve at her apartment followed by dinner on Christmas Day in one of Toronto's finer hotels became our new tradition. After my father died, my mother sometimes joined us. It was always very nice … but Barbara and I did miss the movies!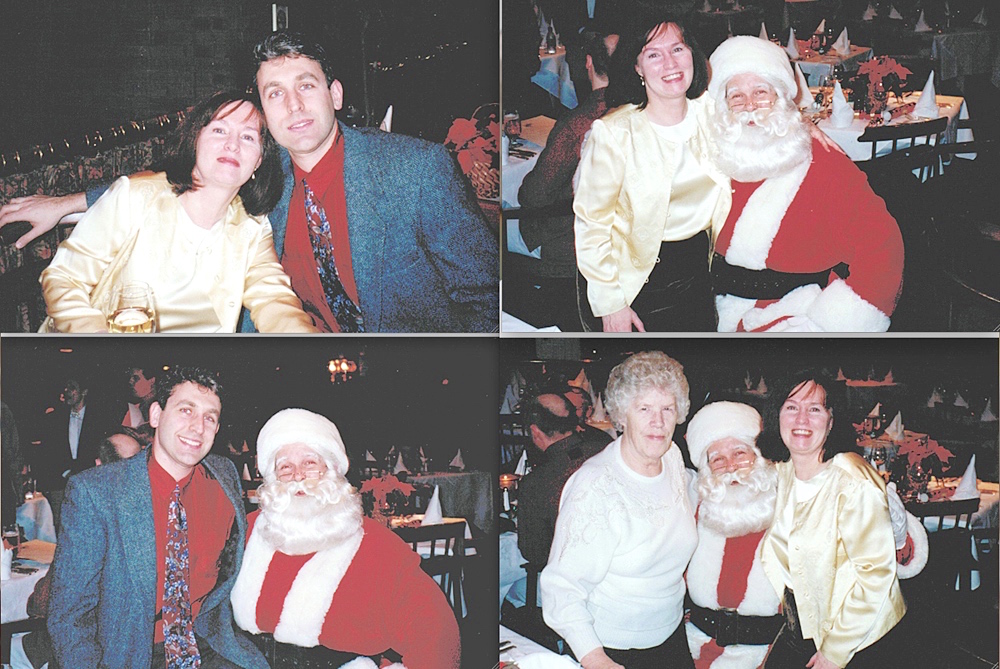 Christmas dinner at the Royal York Hotel, 1999.
After moving to Owen Sound in 2006 (Alice moved up here about 18 months later), we were all invited to Christmas with friends a time or two, but as Alice's health declined, Barbara and I began making Christmas dinner for her at our house. Even after she passed away in 2012, we continued to make a small Christmas dinner for ourselves. We didn't exchange gifts, but I always made Barbara a Christmas stocking. It usually consisted of some chocolates, an orange, and a special-edition magazine. Not much, but she looked forward to it each year. I did too. It's definitely going to be strange this year without that.
So, Happy Holidays everyone and may 2019 be a better year for us all. I've been very touched over the last little while by the reception these personal stories have received. I don't know how often I'll keep it up going forward. My feeling is, I won't write much about sports – unless someone is paying me to do it! – but I will continue to write, so you never know what you might see in these pages.