Well, in what's been a pretty tricky year for most of us, there was something of a treat for sports fans this week courtesy of Covid-19. Less than 24 hours after the Tampa Bay Lightning won the Stanley Cup on Monday night, the Major League Baseball playoffs started Tuesday afternoon. (The Blue Jays lost, but at least there's another chance among the eight games today!) It's a doubleheader you're just not going to see in a normal year, so what better time for a bit of historical fun involving my two favourite sports…
Ask most hockey historians if they know who "the Babe Ruth of Hockey" was and they're likely to tell you, "Howie Morenz."
Morenz was a star, mainly with the Montreal Canadiens, from 1923 until 1937. A three-time winner of the Hart Trophy as NHL MVP, Morenz was considered the game's best scorer and its fastest skater. Speed was what led to most of his nicknames. He was known as "the Mitchell Meteor" (for his home town of Mitchell, Ontario), "the Hurtling Habitant," "the Canadien Comet," and, most famously, "the Stratford Streak" (for the Ontario town he grew up in).
Howie Morenz was a flashy personality who put fans in the stands at a time when the NHL was first expanding into the United States. Hence, the comparisons to Babe Ruth. Still, years ago, when searching newspapers online was just starting out, I tried to find stories about this and couldn't really find anything definitive from the height of Howie's career. With so many more papers to search, it was easy enough this time. But the moniker wasn't exactly exclusive…
This wasn't really an exhaustive research project, but it certainly looks like Howie Morenz wasn't the first player to be known as "the Babe Ruth of Hockey." Nor would he be the last. The first references are to Cecil Dye of the Toronto St. Pats … better known to hockey fans as Babe Dye.
Dye was nowhere near the explosive skater Morenz was, but he was hockey's best scorer at the time Morenz was just coming into the NHL. In the offseason, Dye played minor league baseball, and was good enough to attract Major League interest. It's said that his hockey teammates in Toronto called him "Babe" because of his baseball prowess (he was known as "Babe" by at least 1917, when Ruth was still mainly a pitcher) … but it seems it was the New York press that first called Dye "the Babe Ruth of Hockey." (Or perhaps the Ottawa Journal was just taking exception to the New York papers referring to Billy Burch this way. See the bottom of this post.)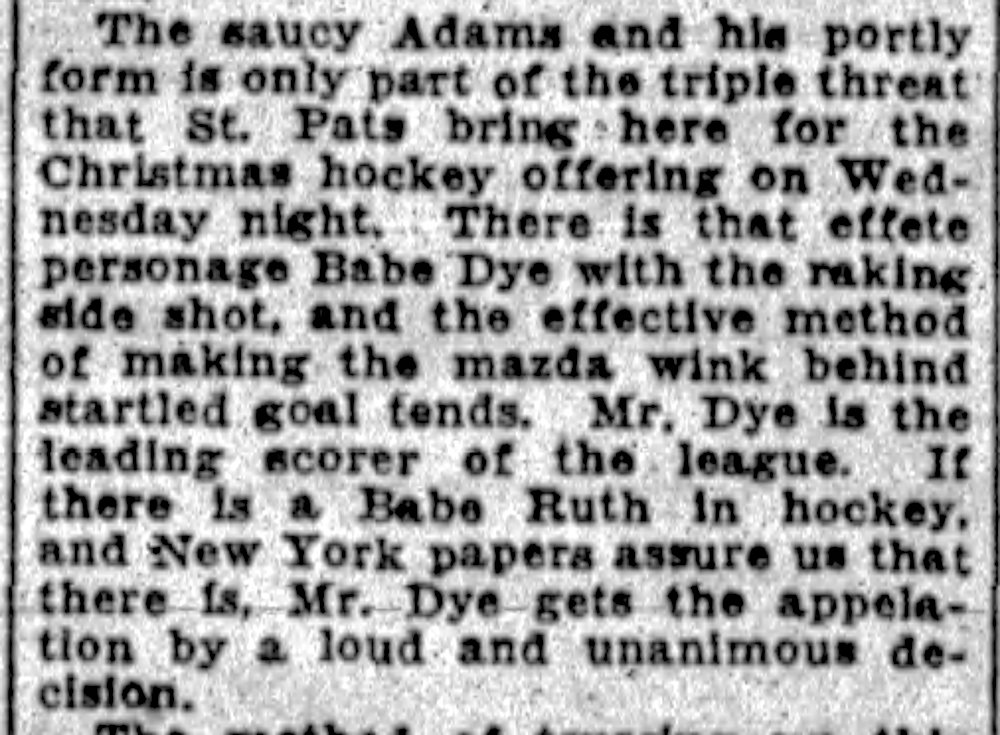 A broken leg in 1927 ended Dye's baseball career, and marked a sharp decline in his hockey career too. That appears to be when the title "the Babe Ruth of Hockey" passed to Morenz.
But there would be challengers. In Boston in particular, but in other cities too, Eddie Shore was soon being called "the Babe Ruth of Hockey." Shore was a defenseman who didn't put up the big scoring numbers of Morenz, but he was also a very colourful character and a big box-office draw. A huge star himself, Shore was the first four-time winner of the Hart Trophy as NHL MVP.
Charlie Conacher of the Toronto Maple Leaf was (like Shore) a larger-than-life personality and (like Morenz) a great scorer. He had already won two goal-scoring titles by the 1932-33 season (he'd become the first to league the league in goals five times) when he was considered an heir apparent to the "Babe Ruth" moniker.
Still, at the time of his death on March 8, 1937 (two months after the broken leg that ended his career), it seems that Morenz had taken back the title from Shore and Conacher and truly was "the Babe Ruth of Hockey."
The nickname doesn't seem to appear again until another flashy Montreal Canadiens superstar was tagged with it. Maurice Richard was already well known as "the Rocket" when New York writers began referring to him as "the Babe Ruth of Hockey" in 1950.
The nickname stuck as Richard surpassed Nels Stewart (who had topped Howie Morenz) as the NHL's all-time goal-scoring leader in 1952 and went on to become hockey's first 500-goal scorer. Gordie Howe would, of course, break all of Rocket's scoring records, and the Babe Ruth tag would attach itself to him too.
Skilled as he was, though, Howe never had Richard's flair, which is why Conn Smythe back in 1951 had thought the Babe Ruth tag rightfully belonged to the Rocket. (Howe was maybe more like the "the Lou Gehrig of Hockey.")
Bobby Hull (or Bobby Orr) might have been a worthy recipient of the nickname too, but only Gordie Howe had it…
And as Howe eventually put up numbers that were, well, Ruthian, the name stuck — although not like Mr. Hockey would!
The most unlikely "Babe Ruth of Hockey" is undoubtedly Alain Caron. Caron was a huge scorer in minor league hockey who had 77 goals and 48 assists for 125 points for the St. Louis Braves of the Central Professional Hockey League in 1963-64 when his article appeared. He played just 60 games in the NHL over two seasons, but was a decent scorer later during two years in the World Hockey Association.
Not surprisingly with the numbers he would put up, Wayne Gretzky would also draw comparisons with Babe Ruth.
Although when it comes to nicknames, it's tough to top "The Great One."
NOTE: a couple of late additions. I knew that the New York Americans promoted Billy Burch as "the Babe Ruth of Hockey," though forgot to include him. Not sure if I'd ever come across Ching Johnson.
AND a further eight more from 1920 to 1926…