On May 2, 1967, the Toronto Maple Leafs won the Stanley Cup. It was the fourth time they'd won it in six seasons. Overall, in what was then the 50-year history of the NHL, the franchise had won the Stanley Cup 13 times; 11 since the team name had become Maple Leafs 40 years earlier. And how many times have they won it in the 56 years since then? Well, we all know the answer to that! It's the longest Stanley Cup drought in NHL history.
When the city's newspapers came out on May 2, 1967, they didn't know yet that the Maple Leafs would win that night. Interestingly, they didn't even consider the opportunity to win it to be front-page news. I don't have access to the Toronto Telegram, but you can see the front page from the Toronto Daily Star and The Globe and Mail here: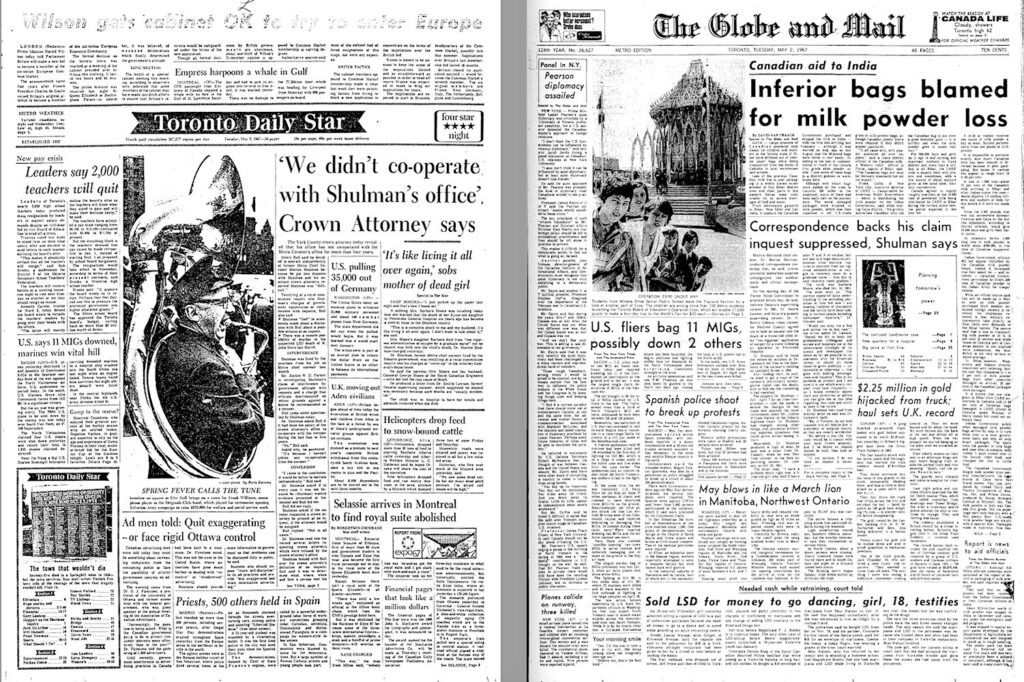 Sports sections were a lot smaller back in 1967, but you can see that — even in the sports pages — the Stanley Cup news was limited to one page in each paper … and not even the full page:
Tonight, May 2, 2023, the Maple Leafs will face the Florida Panthers in the first game of their second-round playoff series. (Note that in 1967, the last year of the six-team NHL, it only took two playoff rounds to win the Stanley Cup.) I still get home delivery of the Toronto Star, and in my paper this morning you can see that Leafs news is featured on the front page (it may well have been even more prominent if not for the death of Gordon Lightfoot yesterday) and it fills the entire front page of the sports section:
Leafs news also dominates the next two pages inside the sports section (which is only six pages long these days):
And the Leafs also get space on two more pages in the front section:
What does all this mean?
Nothing, really.
I just thought it was kind of interesting.
Hope you do too.
Go Leafs Go!