Happy Valentine's Day everyone … but we're talking baseball today. Pitchers and catchers have reported to spring training, so no matter what the groundhog said (and, around these parts, I've always wondered why six more weeks of winter isn't an early end) we know that summer can't be too far away.
Still, the baseball news is sad for Canadian fans. After 36 years at the microphone for Toronto Blue Jays baseball on radio, Jerry Howarth announced his retirement yesterday. His health has not been great in recent years, and he just didn't feel his voice could hold up over the long season anymore.
Jerry didn't have the "classic pipes" of a sports broadcaster, but he had a passion for baseball and wonderful way of telling stories. He always made the listener feel like they were part of every game he was calling. "Hello, friends."
I was not a baseball fan before Toronto got its team in 1977. Tom Cheek, and later Jerry Howarth (he joined the team in 1981) certainly did their part to spread the Gospel of the Blue Jays to my brothers and me. My parents had loved the minor-league baseball Maple Leafs and we quickly came to love the Blue Jays in my family. All those 100-loss seasons in the early days didn't dampen our enthusiasm at all. It was fun (and inexpensive!) to take in a game at the ballpark – even if Exhibition Stadium wasn't much of a ballpark. Even in those early days, you could find a radio tuned into the game in almost every room in our house.
It's funny, but here in Owen Sound, I can usually get the games on my car radio from anywhere in town … until I turn onto my own block. Can't get the games on the radio in the house at all. So, I watch on television. I'm not the first to say this, but baseball is a perfect game for radio … and I haven't been able to listen to Jerry as much as I'd have liked to in recent years. Now, I won't get that chance anymore.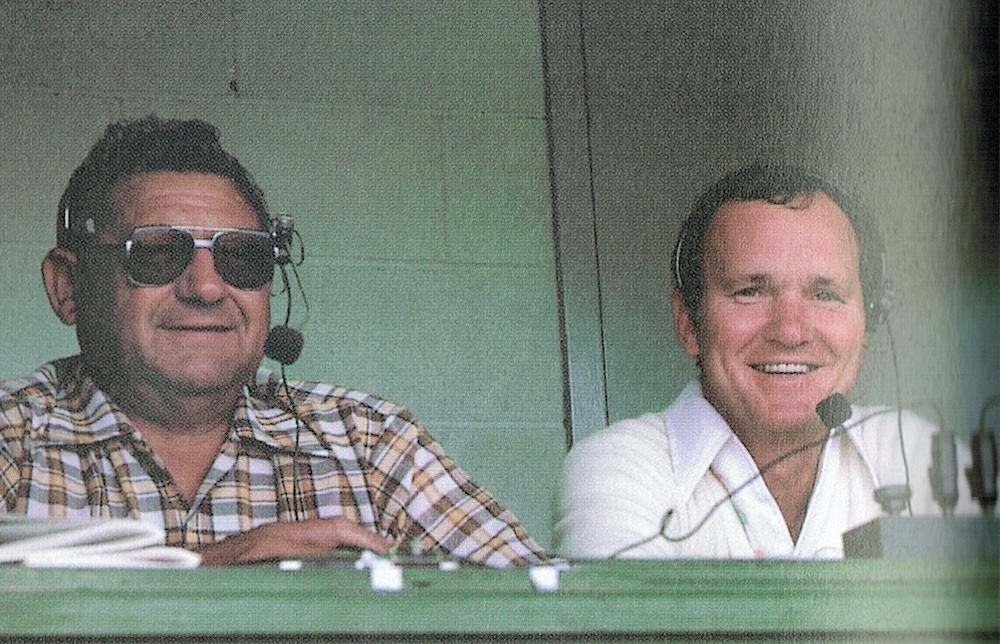 My father took this picture of the Blue Jays' first broadcasting duo, Early Wynn and Tom Cheek, at a spring training game against the Phillies in Clearwater, Florida, in March of 1980.
It seems that no one has anything but nice things to say about Jerry Howarth. He's widely regarded as a lovely person. I haven't had a lot of experiences with him, but the ones that I've had certainly confirm that.
When I worked for the Blue Jays ground crew from 1981 to 1985, I always tried to hang around Tom and Jerry as much as I could get away with when they were on the field before games. I loved to listen to them telling stories. A few years later (it must have been the summer of 1987), when I was working for a small company called Digital Media, I was able to arrange for us to get the occasional press pass. The very first time I was on the field as a "reporter," I re-introduced myself to Jerry. I doubt that he really remembered me, but he immediately marched me up to Jesse Barfield and set up a quick interview for us. He certainly didn't have to do that, but that's the kind of person Jerry Howarth is.
In 2001, when we published The Toronto Blue Jays Official 25th Anniversary Commemorative Book, I had a chance to be in the radio broadcast booth during a game to talk about the book. It was a thrill to be on the air with Tom Cheek, but I remember that when I was done, Jerry asked me quietly about my favourite parts of the book. I told him that while the Pennant-Winning and World Series years of 1985 to 1993 had, of course, been fun, my favourite story was something smaller. It came under the category titled "Oddities and Others" and was the story of the final game of the 1982 season.
Until the baseball strike of 1981, even a diehard fan like me knew that the Blue Jays were terrible. Still, the team played better in the second half of 1981 and, with players like Willie Upshaw and Damaso Garcia, the outfield of George Bell, Jesse Barfield, and Lloyd Moseby, and platoon partners Rance Mulliniks and Garth Iorg and Ernie Whitt and Buck Martinez, we finally got a glimpse of the future in 1982. The team was 44–37 in the second half, and with a series-sweeping win over expansion cousins Seattle on the final day of the season, the Blue Jays  finished with nine wins in their last 12 games to escape last place for the first time in franchise history … sort of.
With a record of 78–84 in 1982, the Jay actually finished tied for sixth with Cleveland in the seven-team American League East. I can remember fans chanting "We're Number Six!" in the stands after the game, and "Bring on the Indians!" knowing that we would beat them in this theoretically tiebreaking playoff and escape last place for real.
Attendance was only 19,064 (in my memory, the crowd was bigger … but not much) yet everyone stuck around to the end. When Jim Clancy finished up his complete-game victory, he was cheered off the field and threw his hat and his glove into the seats. Alfredo Griffin brought a bag of balls out of the dugout, and he and his teammates began tossing them to the fans too.
There would be bigger celebrations in the years to come, but that one always felt special to me – a treat for the real fans. I can recall Jerry smiling as I reminded him off it. I don't know what (or if) he remembered of it personally, but he certainly seemed to appreciate the story.
Best of luck wherever the future takes you, Jerry.
Your retirement certainly marks the end of an era.