The NHL Awards were handed out last night, as they have been, in some form or another, since the end of the 1923-24 season. That's when the Hart Trophy for MVP was presented for the first time. The Lady Byng Trophy, which was first awarded for the 1924-25 season, is the NHL's second-oldest individual honour. That means there has been an award for "sportsmanship and gentlemanly conduct combined with a high standard of playing ability" (as the league describes it) for longer than there's been one for the best goalie, best rookie, best defenseman or leading scorer. Still, the NHL has had an odd relationship with this award.
"We want a hard, aggressive team with no Lady Byngers," Conn Smythe is reputed to have said. (And if he didn't say that exactly, he said many things very close to that while he was rebuilding the Toronto Maple Leafs before the 1946-47 season.) Don Cherry felt the same way when he was coaching the Boston Bruins. It's said that Jean Ratelle apologized to Cherry after winning the award for the 1975-76 season, although Cherry really did appreciate that Ratelle – who had joined the Bruins from the New York Rangers earlier that season – played a tough game while keeping it clean.

Portrait of Lady Byng, 1917.
"Sure, it's nice to win it," said Alex Delvecchio when he won the Lady Byng Trophy for the third time in 1969. Then he added a comment that just wouldn't fly today. "But the name takes a lot away from it and what it's meant to be."
Though the game was certainly as rough in Frank Boucher's era as it was at any time it's been played, we'll assume that this New York Rangers star of the 1920s and '30s felt differently when he was given the original Lady Byng Trophy to keep in 1935 after winning it seven times in eight seasons.
Regardless of the mocking her trophy has taken, there is little doubt that Lady Byng was a hockey fan. She and Lord Byng attended many Ottawa Senators games when they were living in the Canadian capital while he was Governor-General from 1921 to 1926. Even when they were back in England, the couple continued to follow the Senators on their way to the 1927 Stanley Cup. Lady Byng sent a telegram of congratulations after Ottawa's victory that year.
The Ottawa Journal, April 14, 1927.
It's often been written that Lady Byng was so impressed by Frank Boucher that she decided to give him the trophy. Boucher led the NHL in assists three times and was top-10 in points seven times in nine seasons from 1926-27 to 1934-35 while never accumulating more than 18 penalty minutes. However, it's pretty hard to believe that Lady Byng continued to follow the NHL closely enough from England for the next eight years to have been aware of Boucher's exploits. That being said, it really is true that she agreed to let Boucher keep the original trophy and donate another. Here's how it actually happened.
Despite having already won the award six times, it was claimed that Frank Boucher had never actually seen the Lady Byng Trophy before winning it for the seventh time in 1935. Shortly after the NHL season ended, Boucher was back in his hometown of Ottawa for a charity game involving local pros from the NHL and the minors. (The original Senators had moved to St. Louis that year.) The game was played on April 16, 1935. NHL president Frank Calder was there that night and he presented the trophy to Boucher as part of the evening's festivities. It wasn't Boucher's to keep just yet, but the wheels were in motion.
The Ottawa Journal, March 16, 1935.
In the Ottawa Journal that same April 16, 1935, Sports Editor Walter Gilhooly wrote an open letter to Lady Byng. In what was really just his column for the day, Gilhooly recaps the history of the trophy since its donation. "Between 1925 and 1935 lie 11 full hockey seasons," he writes, "and as I have mentioned, three players [Frank Nighbor twice, Billy Burch and Joe Primeau] held it through four of them. What disposition of the trophy was made through the other seven? Well, Lady Byng, it may be difficult for you to believe since you are so far away from the centre of things – I mean the hockey centre, of course – but one single player claimed it in those seven years, and that player is Frankie Boucher.…"

Segments of Walter Gilhooly's column. The Ottawa Journal, April 16, 1935.
Gilhooly  adds that, "the suggestion so often made, and that I would like to convey to you is this – that the cup be withdrawn from competition and your trustees be instructed to turn it over to Frank Boucher to become his permanent possession."
It's not clear if Gilhooly was aware of it or not, but Lady Byng was visiting Washington when his letter appeared in the Ottawa Journal. Upon the contents being communicated to her, she got in touch with officials at Rideau Hall and wrote that she would be pleased to see the trophy given to Boucher. Colonel O'Connor of Government House then contacted Frank Ahearn, the former owner of the Senators who was serving as a Member of Parliament in Ottawa. Ahearn got in touch with Frank Calder, who made it happen.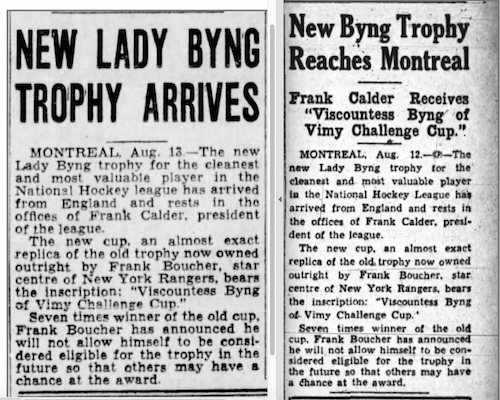 Articles announcing the arrival of the new Lady Byng Trophy in the
Winnipeg Tribune and the Ottawa Journal, August 13, 1935.
Although Calder couldn't be there himself, Frank Boucher was given the Lady Byng Trophy for his permanent possession on April 25, 1935, at a civic banquet honouring four Ottawa-born players who had just won the Stanley Cup as members of the Montreal Maroons. By August 12, 1935, a new Lady Byng Trophy sent from England had arrived at Frank Calder's office in Montreal. Frank Boucher may well have won that one too during the 1935-36 season, except that in June of 1935, he wrote to Calder to say that he would like to withdraw from further competition for the trophy.
"It's just the sort of sporting thing that Frank would do," said Calder.
Though there's no record of it, Lady Byng likely approved of that too.